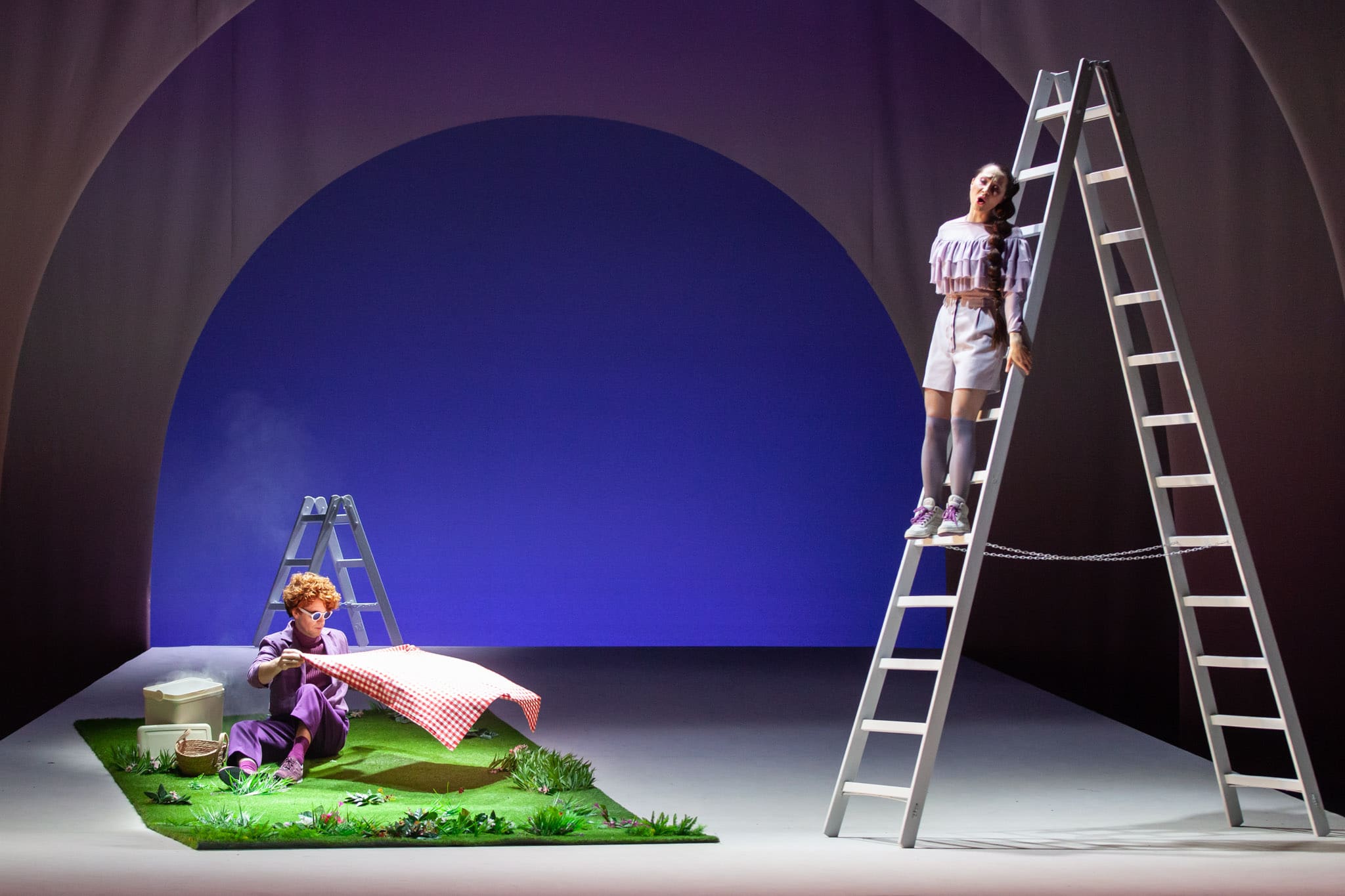 Love and desire are so overwhelming and compelling in Roméo et Juliette that they can only find a way out in death. How do Anna Emelianova (Juliette) and Peter Gijsbertsen (Roméo) experience it to show this intense love in public?
How do you prepare for such an iconic role?
Peter: 'There was already contact about this role two years ago and I have been reading and singing the score ever since. For a role as big as this one, it was nice to have the time to really empathize with Roméo. Finally, together with Anna, I carry a large part of the performance on my shoulders. Nevertheless, the pressure is high. Audience always compares. That is why it is so important that you do not perform a role as others did or as the audience expects. We create our own Roméo and Juliette." Anna: "Juliette is one of my dream roles. The large number of arias requires a lot of strength from me. Technically it has to be good and precise and I naturally look for connection with my own thoughts and feelings. The popularity of this opera does create a sense of responsibility. People will compare me to previous Juliettes. I think it's important that they appreciate my interpretation of Juliette."
How do you put yourself in this special love between Roméo and Juliette?
Peter: 'There's nothing special about the love between Roméo and Juliette. It is love as we all experience it. You meet and there is a spark. Pat's boom, you're in love! That is what makes this story special for everyone. From the moment I sing the beautiful music makes me feel the love. It's in the notes, in my words and in what I get back from Anna. Her eyes, her voice." Anna: "I imagine this youthful love very easily, because as a young girl I was very much in love. I still remember the emotions and thoughts so clearly. I use these feelings to put myself in Juliette's place. That works very well. But of course it could also be Peter, haha. It's hard not to fall in love with him, isn't it?"
You switch between public scenes where many actors are on stage to private scenes with just the two of you. What does that ask of an opera singer?
Peter: "One minute Roméo is fighting the Capulets, the next he's in bed with Juliette. The scenes show different sides of Roméo; from an overly confident fighter to an insecure lover. It is precisely because of the different emotions and quick transitions between the scenes that I like to play this role.' Anna: 'I like the strong character of Juliette, she is not shy at all and knows what she wants. You can see this confidence most strongly in the private scenes. In the public scenes she lets herself be confused and the emotions become too much for her. Both emotions are great to play."
Do you recognize the tension between public and private in your daily life?
Peter: 'My wife and I met each other on the internet, so very public. Later we got married to show our immediate environment that we chose each other. Not one photo from the wedding day has made it to the internet. Proof that you can live your life very publicly and at the same time keep it very private." Anna: "In Russia, your family is extremely involved in your private life. I speak to my mother about two or three times a day. That is expected of me and even though I sometimes set limits, in general I think it's cute.'
Finally, what is your favorite scene?
'The bed scene', Anna and Peter answer laughing in unison. Anna: 'Because of the beautiful duet. Roméo and Juliette are emotionally one, the scene is cheerful and playful." Peter: "In the duet they show for the first time that they will be together." Anna: "And it is of course very comfortable to take a break in the middle of the performance. to lie in bed under a blanket.'
INFO & TICKETS: operazuid.nl/romeo-juliette
Interview: Manon Berns